Here is my fifth Twilight fanmix called 'Indeniable Attraction'.
I just finished it tonight. I hope you'll like it!
UNDENIABLE ATTRACTION
FANMIX - TWILIGHT (BELLA/EDWARD)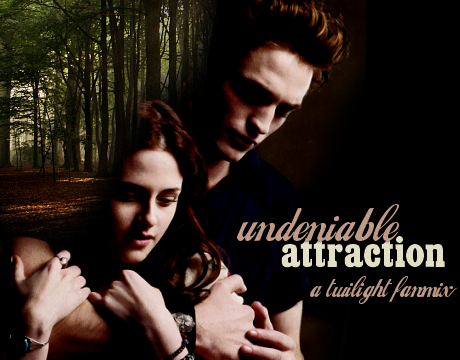 DOWNLOAD HERE
Cry
- Mandy Moore
I'll always remember
It was late afternoon
It lasted forever
And ended so soon
You were all by yourself
Staring up at a dark gray sky
I was changed
17
- Mandy Moore
Some people tell me, that you're not my kind
And i believe them, but i can't get you out of my mind
Some people tell me that i should stay away
Maybe I will... some other day
Breathless
- The Corrs
The daylight's fading slowly
The time with you is standing still
I'm waiting for you only
The slightest touch and I feel weak
I cannot lie, from you I cannot hide
And I'm losing the will to try
Can't hide it (can't hide it), can't fight it (can't fight it)
Everywhere
- Michelle Branch
'Cause you're everywhere to me
And when I close my eyes it's you I see
You're everything I know
That makes me believe
I'm not alone
I'm not alone
I'm You
- Leona Lewis
So why are we sitting here on the floor
(listen to me)
We ain't cryin no more
I am your soul
I am your heart
My strength is yours (Oh my strength is yours)
Heaven
- DJ Sammy ft. Yanou
Baby, you're all that I want
When you're lyin' here in my arms,
I'm findin' it hard to believe
We're in heaven
Don't Let Go
- Bryan Adams ft. Sarah McLachlan
Now would you mind if I bared my soul
If I came right out and said your'e beautiful
Cuz there's something here I can't explain
I feel I'm diving into driving rain
You get my senses running wild
I can't resist your sweet, sweet smile
So take this feeling'n make it grow
Never let it - never let it go
Lucky
- Bif Naked
It was a monday, when my lover told me,
"never pay the reaper with love only."
What could i say to you, except, "i love you."
And "i'd give my life for yours."
Insatiable
- Darren Hayes
The moonlight plays upon your skin
A kiss that lingers takes me in
I fall asleep inside of you
There are no words
There's only truth
Breathe in, breathe out
There is no sound
We move together up and down
We levitate our bodies soar
Our feet don't even touch the floor
But nobody knows you like I do
'Cause the world they don't understand
That I grow stronger in your hands
Speechless
- The Veronicas
I thought I could resist you
I thought that I was strong
Somehow you were different from what I've known
I didn't see you coming
You took me by surprise and
You stole my heart before I could say no
Current Music: Already Gone - Girlicious